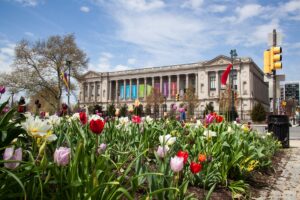 Spring is in full swing at the Free Library of Philadelphia! Our libraries continue to offer a wonderful selection of virtual programs for all ages, from yoga to storytimes. Check out our Calendar of Events to see what's coming up.
The Free Library's popular Sundays on Stage series – which offers high-quality arts programming to children and families at no cost – will be presented virtually. From April through May, on select Sundays at 2:00 p.m., performances will be shared on the Library's Youth Services and Programs Facebook page, as either Facebook Live events or as video performances shared for a limited amount of time. Most programs will be available for five days, for families to view them asynchronously at their convenience. The performances will range from familiar favorites – which the library has previously hosted in-person – to new and exciting offerings.
Virtual Sundays on Stage Programs – All performances begin at 2:00 p.m.
April 11: Gift of Story by TAHIRA – A storytelling experience highlighting hope, triumph, and tragedy drawn from a diverse repertoire of original works and those based on African oral tradition.
April 25: Dreams of Land with Hua Hua Zhang – A series of dream vignettes are experienced using puppets, shadows, and stylized movement to explore relationships, emotional states, and how these are processed utilizing a lens of both Asian and Western viewpoints and attitudes.
May 16: The Principles of Hip Hop: Peace, Love, Unity, and Having Fun with Hip Hop Fundamentals – Explore the roots of hip hop culture with dynamic and energetic dancers using breakdancing and audience participation to explore hip hop's rich cultural history and how Black youth changed the world, focusing on youth empowerment, creativity and working together as embodied by hip hop's four principles: Peace, Love, Unity, and Having Fun.
One Book, One Philadelphia 2021
The Free Library will launch the 19th season of One Book, One Philadelphia beginning April 14 through June 9.  One Book, One Philadelphia promotes literacy and civic dialogue by encouraging the entire greater Philadelphia area to come together through reading and discussing a single book, and this year there will be free and virtual events centering on Jericho Brown's Pulitzer Prize-winning collection of poems, The Tradition.
Discussion guides, curricula, and a list of recommended reading for all ages are also available on the Free Library's website.
One Book, One Philadelphia will also offer two youth companion titles to include younger readers in discussions. The Poet X by Elizabeth Acevedo, is a National Book Award-winning novel-in-verse about a young Afro-Latina poet who tells her story with blazing words and powerful truth. Hey Black Child by Useni Eugene Perkins, is a lyrical, empowering poem that celebrates Black children and seeks to inspire all young ones to dream big and achieve their goals, and is illustrated by six-time Coretta Scott King-award winner Bryan Collier.
One Book, One Philadelphia programming will be offered for all ages and begins with A Conversation with Jericho Brown, on Wednesday, April 14 at 7:30 p.m.  Registration is required for this free online event. Follow this link for registration information.
Other exciting programming includes Philadelphia Youth Poet Laureate, Cydney Brown, who will lead the Words to Action: Poetry and Social Justice Workshop, a writing workshop in which teens learn how to turn thoughts and feelings about the current political climate and Black Lives Matter into poetry, as well as get thoughts onto paper, formulate poems, and recite with passion. The end product will be a video of all of the poems created. This virtual workshop will take place Saturday, April 17, at 5 p.m. and interested teens are welcome to register for this free online event.  Registrants will receive a Zoom event link.
Find out about all One Book, One Philadelphia programs here.
Contributed by