On Tuesday, November 22, over two hundred students and their families took part in the 7th Annual Friendsgiving Event at the Kensington Health Sciences Academy (KHSA)! With the arduous work of Principal Nimet Eren, Family Engagement Liaison Dalila Bedoya, and School Coordinator Mr. Williams, together with the school partners, the whole school community came together for such an amazing celebration event.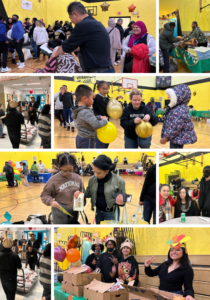 50-inch TV, microwave, iPads, various digital gadgets, 100+ Spanish/English bilingual books, 220+ turkeys and chickens, and 2,000+ pounds of dried and canned food were given away to the families to ensure they continued the celebration at home during the Thanksgiving holiday.
The generous donations are collected from the communities and the partners of the KHSA. Councilwoman Helen Gym and her office donated turkeys and chickens. APM, Congreso, Eat Right Philly, and the YMCA donated food, hygiene kits, grocery cards, and kitchen giveaways.
New to the Friendsgiving event this year, KHSA has established collaborative partnerships with the Asian community, a rapidly growing community in Northeast Philadelphia. Mr. Xinsheng Liu, President of 99 Urgent Care, 99 Adult Daycare I and II, and Mr. Kuiming Jin, President of Pennsylvania Asian Institute, brought iPads and microwaves for the families as well as internship opportunities for the students. Mr. Xueli Zhang, a well-known Tai chi Master, supplied massages to the families and introduced traditional Chinese Health Science to the students. As a Family and Community Engagement Coordinator for the Office of Family and Community and Community Engagement (FACE), Ms. Bin Wu, introduced the participation of the Asian Community to the KHSA and volunteered as a photographer for the event. The FACE Office is committed to working with families and communities to partner with schools for culturally diverse and socially inclusive educational experiences for our students and families.
Ms. Chrystal, parent of an 11th grader & SAC (School Advisory Council) member said, "I know about Friendsgiving at KHSA, and I've been to the last two events since my son started 9th grade. KHSA has a very warm atmosphere and is welcoming, and the staff are very caring and giving to the families and community."
Ms. Varona, parent of an 11th grader & SAC member said, "This year is my second year. The school hosted a beautiful, welcoming, and generous Friendsgiving to the students and families in need. I can truly say that it was the best Friendsgiving event I have ever experienced. The most gracious part of the event was that it extended to the families in the community who may be in hard times this time of year. My family and I had great fun and gratitude for attending this event."