Investments and Interventions

With over 200 schools in our District, there are bound to be schools that perform at different levels. We want all of our schools to thrive, and when we find that a school consistently performs below the expectations that our students and families deserve, the District will take necessary actions and make necessary investments to improve school performance.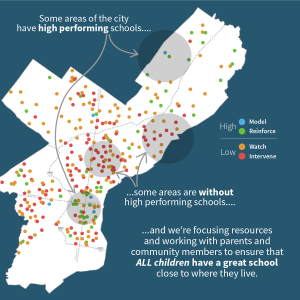 Each year, the District reviews performance at all schools and, based on this data, selects a set of schools to prioritize for additional investments and interventions. The District then works closely with that school community to determine what individualized supports that school needs to greatly improve performance. We refer to these select schools as focus schools.
What defines a focus school?
Schools are designated as focus schools because they meet three basic criteria:
The School Progress Report score (SPR) for the school has been in the lowest performance tier – Intervene – for three consecutive years.
The three year SPR average for the school is less than or equal to 15 out of 100.
The school does not already have a major intervention in place (such as the Turnaround Network, School Redesign Initiative, etc…)
The focus schools for the 2017-18 school year are:
Feltonville Academy of Arts and Sciences
James Rhoads Elementary School
Penn Treaty Middle and High School
How to Get Involved if this Affects your School
The District works with each school community to identify their school's biggest strengths and needs.  This community input helps the District determine what kinds of investments and interventions will make the biggest impact on school performance for students.  We want your input.
Information on the process and opportunities to provide feedback will be provided at a community kickoff meeting and a separate town hall meeting at each school.  A summary session of the information gathered during the school quality review and community feedback sessions will also be held at each school. Dates and times can be found by clicking on the school name above or by using the links at the bottom of the page.
Online Feedback
If you are unable to attend one of the live meetings, please use this link to send your feedback and ideas.
Click here to view the focus schools and improvement actions for the 2016-17 focus schools.