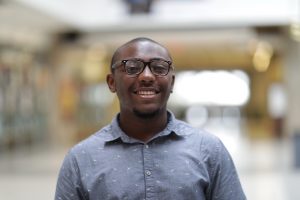 Imere, a senior at Boys' Latin Charter School, is a champion for education and a colossal advocate for student voice and involvement. He is very active in his school community where he sits on the Honor Council, acts as a steering committee member for Boys' Latin and is the Student Government Class Officer. We sat down with Imere to learn more about him and his interest in being a new Student Board Representative for the 2019-2020 school year.
Q: What interested you in the Student Board Representative position?
A: Student voice and involvement in schools is one of the most important things in education; it is vital. I have carried strong convictions about student voice for as long as I can remember. I was interested in being the student representative on the Philadelphia Board of Education because I saw it as an opportunity to finally give the amazing students of Philadelphia a platform to share their voices and broadcast their concerns about the schools they attend most of the year. I also wanted to use this position to make students feel like they are the most precious gems in this city and that they should be treated as such. 
Q: What particular strengths do you believe that you will bring to the Student Board Representative position?
A: I am very determined, strong-minded, gritty, and stand up for what I believe in ALWAYS. Additionally, I am very relatable. Being from the inner-city, still living in the inner-city, coming from an underprivileged background, and being a black male are just a few things from a long list that are part of my identity. These things are so true for a great amount of students in the district, that they are destined to find some commonality with me. Having commonality with a person helps you be more honest and raw. That's exactly what I want when listening to and serving students. 
Q: What do you believe your biggest challenge will be as a Student Board Representative?
A: My biggest challenge as the student representative is the fact that I am very fast paced. I walk fast, speak fast, think fast– I would probably operate at 400mph if you let me go. To overcome this challenge, I need to learn to become more conscious of when I'm being too fast, step back, and slow down. It's like we all learned in "The Tortoise and The Hare" as children, "SLOW AND STEADY WINS THE RACE." I will do whatever it takes to "win the race" for all 200,000 students in Philadelphia. 
Q: Why do you believe it's important to include student voice on the governing body of the School District? 
A: The governing body of the School District could've recruited two adults to do this job, yes, but, are students more likely to give raw, accurate responses to a pair of adults who they know most likely have no student experience in Philadelphia Public Schools? I don't think so. Conversing student-to-student creates a comfortable environment in which students will have no fear of giving feedback about their school. Not only that, but believe it or not, students know just as much, if not more, about education and schools than a handful of teachers, administrators, and policy makers do. 
Q: At the end of your term as a Student Board Representative, how would you know if you were successful?
A: My success is dependent on one thing: The feedback that I receive from students at the conclusion of my term, because at the end of the day, this is all about them. If the amazing students of Philadelphia that I have the honor in serving report that I did a great job and did the best job that I could, I would be extremely proud and consider myself successful. 
Q: What's the last book that you've read?
A: "How We Fight White Supremacy" By: Akiba Solomon and Kenrya Rankin
Q: Who inspires you and why?
A: My mother is my ultimate inspiration, hands down. Despite being brought up in the foster care system as a child, being a single mother, and living with a disability, she works endlessly to ensure that she can provide me with the best life possible. She is the strongest person I know. If my mother never gave up, there is no reason that I should ever even think about thinking about giving up. 
Q: If you had the influence and resources to initiate any change (big or small) within our city, what would it be?
A: I've lived in the City of Philadelphia all my life. For 18 years, I've witnessed family, friends, and more sitting in front of me while having an amazing time, not be there the next day due to extreme violence. I've noticed the glorification of gun violence sneaking its way into our culture, whether it be through music, art, or other means of expression. With access to a limitless supply of resources and tons of influence, I would immediately take action into making sure that Philadelphia becomes a safer place by seizing firearms from every hand, street, and even lockbox, while raising awareness about the effects of violence in our city. 
Q: If You Had Your Own Talk Show, Who Would Your First Three Guests Be?
A: This is very hard to narrow down to just three. But, if I had to choose, the first three guests of my talk show would be President Barack Obama, Shaun King, and Ron Clark.