Thank you Board Member Dr. Chris McGinley for Your Service to the Board and to the students of the School District of Philadelphia!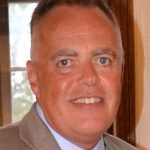 It is with real sadness that we are saying goodbye to Dr. Chris McGinley as a member of the Board of Education. I had the privilege of co-chairing the Student Achievement Committee with Dr. McGinley, and it proved to be an invaluable experience.
As a career educator from a family of career educators, Dr. McGinley has worked in schools across the city and has served in myriad roles within education.
During his career, he has served as a special education teacher, principal, cluster leader, superintendent, professor and, of course, as a member of the School Reform Commission and Board of Education.
His experiences and knowledge about Philadelphia schools have been a tremendous resource to each of us as Board Members.
Furthermore, his service on both the School Reform Commission and the Board of Education was instrumental in bringing about the transition to local control and ensuring there was a smooth transition.
On behalf of my fellow Board Members, I would like to take this moment to thank you for your tireless advocacy and dedication to Philadelphia schools. There is a reason why you earned the title of "Badass Educator."  Your incredible passion and dedication to serving the most under-served populations is the torch we will carry in your stead. We will miss you and wish you the best.
By: Dr. Angela McIver, Board Member