Thank you Vice President Wayne Walker for Your Service to the Board and to the Students of the School District of Philadelphia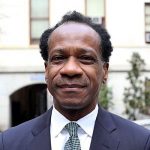 I am deeply honored and, at the same time, saddened to have this opportunity on behalf of the Board to thank Vice President Wayne Walker for his dedication to the School District of Philadelphia and his many contributions to the work of the School Board.
Wayne has spent his career focusing on corporate governance, corporate restructuring and turnaround management for complex large organizations.
As new Board Members, we had the privilege of leaning on his expertise in Board governance to help us navigate our complex role in governance of such a large organization. Wayne has been instrumental in pushing forward our work as a Board over the past year and a half. During this time, we have worked together to focus on a strategic plan and develop long-term goals that are focused on student achievement.
Wayne is also my predecessor as Chair of the Board's Policy Committee, and I am honored to follow his lead and build upon the work he started. In this role, Wayne helped the Board establish important processes that we continue to practice in our review of policies today.
Wayne, it has been a pleasure to serve alongside you in this important work. I will miss our candid talks, your sound guidance, and your voice of reason. Thank you for your service to the students of Philadelphia and thank you for your guidance to the Board.
We will miss you and wish you the best.
By Dr. Maria McColgan, Board Member