The Board of Education Welcomes Ameen Akbar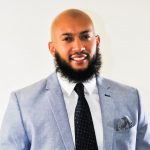 Members of the Board of Education extend a warm welcome to our newest member, Ameen Akbar, who was appointed to the Board of Education by Philadelphia City Council on May 1, 2020, for a four-year term.
Over the last two years, members of the board have worked hard to develop a spirit of collegiality and collaboration. In an effort to find the best solutions for our students and district, we have worked to find ways to bring our own experiences, knowledge and deep convictions to find our common ground in the belief that all children deserve a quality education in which they can thrive. Board members welcome Ameen and are eager to learn from him and benefit from his background and experiences.
Ameen, a Philadelphia native and graduate of J. R. Masterman School, is a senior associate at Grovider, a consulting firm that supports organizations in creating learning and development strategies. Ameen is also a lead facilitator of Universal Companies' BoysToMen program and an assistant basketball coach at Sankofa Freedom Academy Charter School. He holds a bachelor of science degree in Business Administration with a minor in Human Development and Family Studies from Penn State University.
Ameen's parents and community members also graduated from public schools in the city, and his experience as a student in Philadelphia's public schools has been the single greatest driving force in his life. In fact, Ameen's career and decision to apply for the Board of Education have been guided by a belief in the transformative power of education.
"My interest in becoming a board member is rooted in the overall school experience that our students and educators have in schools," Ameen says. "The school experience was the most important aspect in my time as a public school student in addition to the thousands of young people I've had the privilege of working with. The combination of a dynamic learning environment, dedicated educators and a loving community are the things that make the difference. Being able to lend my lived experiences and voice to this level of governance is a huge responsibility that I'm honored to be part of."
Previously, Ameen worked for 14 years at YouthBuild Philadelphia Charter School where he served in various roles providing student case management, mentoring and leadership opportunities to returning out-of-school youth. While at YouthBuild, Ameen also led the program's redesign to successfully introduce a restorative approach to school climate and an overall philosophy for organizational culture.
"The wellness and restoration of students, educators and community is important to me," Ameen said, "I'm eager to translate what those things look like in terms of leadership."