Board Welcomes Two New Student Board Representatives for 2022-2023 School Year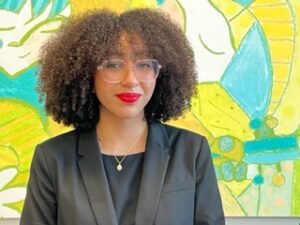 PHILADELPHIA— At its September 22nd Action Meeting, the Board of Education will welcome and officially install Sophia Roach and Love Speech as the Student Board Representatives for the 2022-2023 school year. In this role, they will represent their peers by sharing student concerns with the Board at its monthly meetings and by reporting Board deliberations and actions to the student body.
Ms. Roach is a senior at the Philadelphia High School for Creative and Performing Arts, where she is a founding member of the school's Diversity, Equity and Inclusion Committee. The committee's work has led to conversations on identity and curriculum changes, including more diverse reading material. Ms. Roach would like to see students across the School District engaging in conversations on diversity, equity and inclusion (DEI) that could lead to more educational reform.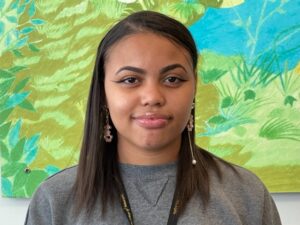 "Giving students a voice is the most important thing a school district can do," Ms. Roach said. "And I would like to advocate for the inclusion of voices from students across the district."
In addition to her work on the DEI Committee, Ms. Roach is the editor-in-chief of The Bullhorn, a district-wide student newspaper; is a STEM intern for the Mutter Museum's 2022-2023 cohort; and was previously a teen ambassador for the Penn Museum.
Ms. Speech is a senior at Kensington Creative and Performing Arts High School, where she is enrolled in the Senior Year Only Program that prepares students for both college and career by connecting classroom learning with the workplace. In this dual enrollment program, she takes all her classes at Community College of Philadelphia.
Ms. Speech believes that student voice is important and would like to improve communication between students, parents and school administrators. She also believes that every student should have access to a quality education. "I want to advocate for all students and give them the best possible chance to succeed and enjoy their educational experience," Ms. Speech said.
Both Ms. Roach and Ms. Speech are eager to begin their new roles on September 22nd. They hope to give voice to student concerns and work toward addressing those issues with the ultimate goal of improving school experiences for all District students.
"We welcome Sophia and Love, who bring diverse perspectives and insights to the Board along with their passion to advocate on behalf of their peers," said Board President Joyce S. Wilkerson. "We are eager to work with them and hear their ideas on improving communication and bringing diversity, equity and inclusion to every school."
To become a Student Board Representative, students must submit an application to the Office of Student Support Services in the spring along with a current school transcript and two reference letters. Selected applicants, who must be in eleventh or twelfth grade during their term, are then interviewed by a committee and then the Superintendent who recommends two students to the Board of Education.