Overview
What is the SEPTA Student Fare Card?
It is a reusable chipped card used by students to board a SEPTA trolley, Regional Rail, bus or subway. Unlike the disposable weekly Transpass, students will be able to use the SEPTA Student Fare Card for the entire school year.
If a SEPTA Student Fare Card is lost, stolen, or damaged the student will reach out to their school to request a replacement.
How will my student receive a card?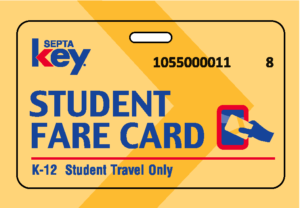 On the first day of school, all forms of transportation on SEPTA including buses, trains, and Regional Rail will be free to students so they can get to school safely on their first day, Tuesday September 5th.
Once at school, the new Fare Cards will be distributed to students by a school official.