Overview
***UPDATE – There have been two program descriptions added to the sidebar pertaining to summer usage. 
SEPTA Two-Trip Pass – Provides information on the SEPTA two-trip pass that will be offered in the summer
SEPTA Summer Student Fare Card – Provides details on the SEPTA Fare Card for utilization in the summer
Regional Rail Updates: 
Effective August 1st, 2022 all students who use Regional Rail and upgrade their Yellow Fare Cards will need to return their card to the school's Administrative Office and request a new one.
SEPTA informed me I need to change my Yellow Fare Card if I want to continue to Upgrade to Regional Rail. What should I do?
SEPTA has requested that all students who use Regional Rail receive a new Fare Card from their schools to maintain functionality. Please reach out to your school's Administrative office if your student still has the Yellow Fare Card assigned last school year; it will need to be replaced.
SEPTA has phased out the weekly Transpass and replacing it with a SEPTA Student Fare Card for all eligible students.
What is it?
It is a reusable chipped card used by students to board a SEPTA trolley, bus, or subway. Unlike the disposable weekly Transpass, students will be able to use the SEPTA Student Fare Card for the entire school year.
If a SEPTA Student Fare Card is lost, stolen, or damaged the student will reach out to their school to request a replacement.
How will my student get one?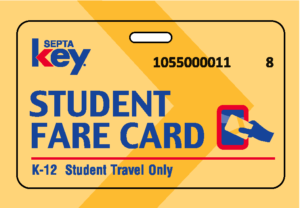 On the first day of school, all forms of transportation on SEPTA including buses, trains and subways will be free to students so they can get to school safely on their first day Monday August 29.
Once at school, the new Fare Cards will be distributed to students in the same manner they received their transpasses.