Deputy Chief, Fran Newberg, EdD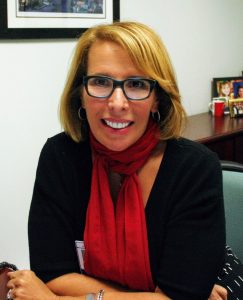 EdD Educational Leadership
MEd Educational Leadership
BS Elementary Education
Certifications: K-12 Principal Certification; Curriculum and Instruction Certificate; K-6 Elementary
Deputy Chief, Fran Newberg, Ed.D, began her career teaching in the School District of Philadelphia at the George Nebinger Elementary School, where her guiding principles about education came together in the classroom. Throughout her career, Dr. Newberg has steadily maintained that all of our efforts as educators should be focused at all times on improving the lives and futures of students in Philadelphia. This principle has informed her actions, whether in the classroom teaching children or managing complex projects impacting thousands of District employees or every teacher child in the District.
Throughout her career with the School District of Philadelphia, Dr. Newberg gained extensive experience working as lead teacher, assistant principal at Carnell and Warren G. Harding and then assuming Central Office leadership positions with the Office of Educational Technology as executive director and in her current role of deputy chief.
As deputy chief and executive director of the Office of Educational Technology, Dr. Newberg has led and managed many of the most complex District-wide initiatives to enhance instruction and streamline District processes. The recently launched Infinite Campus Student Information System (SIS) allows students, teachers and parents to support essential aspects of our students' academic lives more effectively and efficiently than ever before. For the first time, students and families can monitor grades, manage attendance, communicate with teachers and more from any Internet enabled computer or device.
To support Dr. Hite's focus on coding and Computer Science, Dr Newberg engaged a team of teachers to update the digital literacy and coding curriculum to strengthen the District's focus on Computer Science in the elementary grades. Hundreds of robots and kits have been distributed to trained Digital Literacy teachers to support coding in schools. These steps show a District-wide commitment that students gain the technical, online safety, and digital citizenship skills to compete and innovate in our constantly changing global world.
Dr. Newberg recognizes that teaching effectively with technology does not occur just because devices are distributed to classrooms. To meet the need for professional development that maximizes the investment in classroom technology, Dr. Newberg implemented a research-based job-embedded professional development model that provides focused coaching, training, and support to over 2,000 classrooms and teachers receiving new technology including the latest SMART Panels. Technology coupled with personalized coaching ensures that the District investment in classroom hardware and software is fully utilized by teachers to benefit students.
Consistent with her student-centered educational philosophy, Dr. Newberg embraces new challenges, new ideas, and new approaches to help our District meet the needs of the children of Philadelphia.