Dr. Watlington 100 Day Update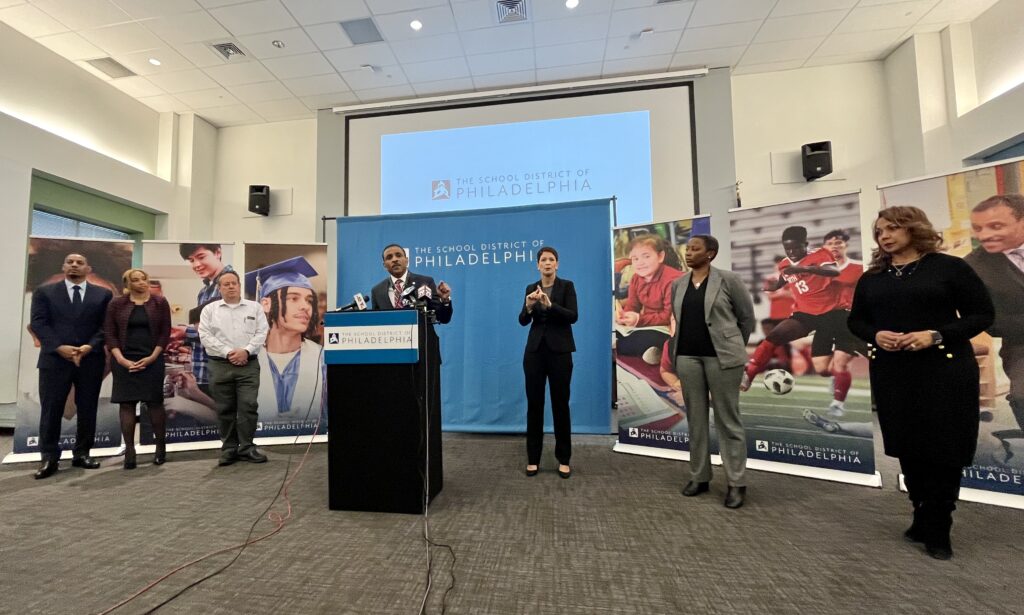 SHQIP | عربي | 汉语 | Français | ខ្មែរ  | Português | Pусский | Español | Việt
Dear School District of Philadelphia Families,
It's hard to believe that it's already been six months since the Board of Education announced my appointment as superintendent on April 1, 2022. On my first day at the District, I committed to a three-phase transition into the District. For Phase 1 and my first 100 days, which is now complete, I committed to listening from people across Philadelphia to learn what the District does well, what needs improvement, and how we can work collaboratively to achieve the School District of Philadelphia's Goals and Guardrails and make the District one of the fastest improving large, urban school districts in the country.
Through 90 listening and learning sessions and an online survey, I've heard from well over 2,700 of you. I want to thank each organization that partnered with us, every principal who hosted us, and every Philadelphian who made their voice heard.
This is what you told me. 
On the topic of what the District does well, what I heard and saw for myself, is that we have many educators and staff who are resilient, who are passionate about this work of public education, and who get up every single day and work incredibly hard on behalf of our students. I am honored to work alongside them.
In addition to staffing and school climate being top priority areas where I should focus, what I heard the most from you was that:
our internal and external two-way communication and engagement lacks consistency and transparency – leading to an overall crisis of confidence in the School District;
the District has poor customer service. Navigating the system is unbearable at times;
too many of our facilities are not all conducive to learning; and
we are missing the mark on academic achievement. Proficiency rates in literacy and math are unacceptable; and too many of our students are not graduating with the skills and credentials they need to get good paying jobs that provide life-changing opportunities and build generational wealth.
So, here is what comes next. 
I am realigning the senior leadership of our central office (440) with an immediate and long-term focus on the areas of academics, learning-conducive facilities, improved communications and customer service, and grassroots partnerships.
Thus, I am happy to announce the appointment of five local individuals to my executive leadership team who I handpicked due to their skills to help us accelerate our efforts to become one of the fastest improving large, urban school districts in the country.
Uri Monson will now serve as Deputy Superintendent of Operations;
Shavon Savage will serve in the new position of Deputy Superintendent of Academic Services;
Alexandra Coppadge will serve as Chief of Communications and Customer Service;
Monique Braxton will serve as Deputy Chief of Communication and District Spokesperson; and
Edwin Santana will serve as Director of Community Relations, leading grassroots community engagement efforts.
On October 20, I will complete Phase 2 of my entry plan, the Transition Team Report. The Transition Team co-chairs will present a report to the Board of Education and me, that will include system-wide, short- and long-term recommendations from our five subcommittees, which covered Student Achievement, Operations, cultivating an Equitable and Anti-Racist Culture, Community Engagement and Communications, and School Experience, along with immediate action steps. I encourage all of you to join us at the Thursday, October 20 Board of Education meeting – or tune in via PSTV – for the Transition Team report and recommendations.
Following that report, I will begin Phase 3 of my entry plan. Part of that work will include a deeper assessment of our organizational structure and the development of a five-year strategic plan which I expect to be completed by the end of this school year.
I invite you to visit philasd.org/100days to view the full recap of what Philadelphians shared during this Listening & Learning Tour and learn more about the actions I have implemented.
Our School District cannot do this work alone and we ask for the support and collaboration of everyone in this great, historic city of Philadelphia to help us build an education system that prepares our kids for life changing opportunities and outcomes in life and the world of work. Our children deserve nothing less.
Let's build on the promise together. 
In partnership for children,