11/12/2020
FACT Academy Grant Writing 101 on November 18th
On November 18th, OGD will run our Grant Writing 101 course for the Family and Community Engagement Office's FACT Academy. The course is a basic introduction to the three main kinds of fundraising for schools: grant writing, crowdfunding, and in-kind donations.
The session is open to the SDP community. See https://www.philasd.org/face/fact/ for further details.
---
3/15/2019
School Breakfast Program: Mini-Grants
The Pennsylvania Department of Education is announcing the availability of $600,000 for the 2019-20 school year to be awarded to schools to implement or expand the use of an alternative breakfast program service method, such as grab-n-go breakfast, breakfast in the classroom, 2nd chance breakfast during study halls, etc.
https://www.education.pa.gov/Teachers%20-%20Administrators/Food-Nutrition/Pages/SBP-Mini-Grant.aspx
---
3/15/2019
Healthy Delicious Teacher Fund 2019
Purpose: Rebel Ventures would like to support teachers and students working together to create a healthier environment for their school. Through the Healthy Deliciousness Fund, Rebel Ventures will provide up to $100 dollars to any Philadelphia classroom that has a project in mind.
https://goo.gl/forms/E6Ycs0lNU25egZ1v1
---
1/15/2019
THE FUND FOR THE SCHOOL DISTRICT OF
PHILADELPHIA
GOOD TO GREAT MINI GRANTS
for Philadelphia District Elementary Schools
Does your school need up to $75,000 to improve literacy?
Apply for one here: FSDP Good to Great Grant Instructions 1.8.19
---
9/18/2018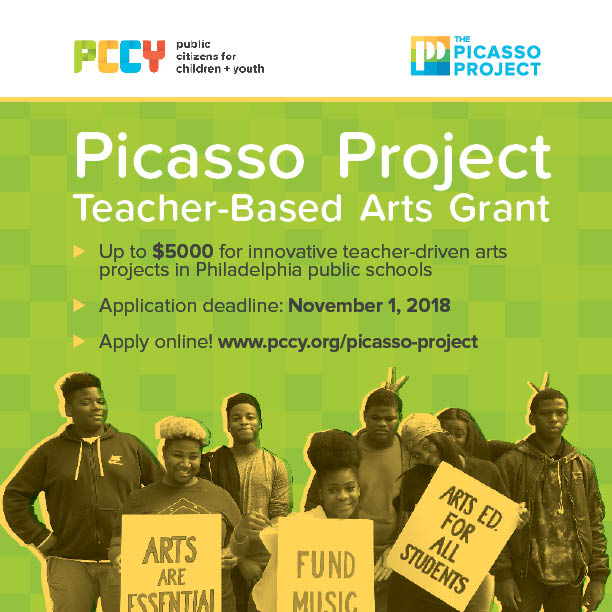 Apply for a Picasso Project Teacher-Based Arts Grant to support an innovative arts project at your school!
Application period: September 15 – November 1, 2018 (deadline: 6pm)
Grant period: January-June 2019
Picasso Project provides grants of up to $5000 to support teacher-driven arts projects (visual art, music, dance, theater, and digital media) in Philadelphia public schools. Additionally, grant recipients engage in advocacy activities to support equitable arts education funding for Philadelphia's students.
Who are we?
Public Citizens for Children and Youth (PCCY) works to improve the lives of our region's children by developing initiatives and advocating for quality health care, child care, public education and family stability. An initiative of PCCY, Picasso Project has provided access to arts education for over 44,250 students at 101 Philadelphia public schools since its inception in 2003.
Eligibility:
•Applications must be completed by a teacher from a Philadelphia public school (District–managed and charter). *Application cannot be written by project partner/organization
•Applicant schools may have no more than 2 full-time arts teachers on staff, including teachers in art, music, dance, drama, and digital media (not including part-time/itinerant teachers).
•Schools must have an Economically Disadvantaged Rate of 60% or higher, according to PA Dept. of Education Data (list available on Picasso Project website).
•Schools that have received a Picasso Project Grant for 3 consecutive years must skip a year before applying again.
•Lead teacher for proposed project must attend a Grant Info Conference Call or Info Session before applying (register on Picasso Project website).
How do I apply?
Visit the "how to apply" page on our website to read through the application guidelines and complete the application online.
For more information please visit www.pccy.org/picasso-project
Questions? Email us at picassoproject@pccy.org
---
9/4/2018
If you can answer the question, "What would you do with $200 for your classroom?" you can apply for a PhilaSoup microgrant!
Have a classroom project or idea in need of funding? Apply for a PhilaSoup micro-grant, September 4th – 23rd.  If selected, you will have the chance to present your idea at our Fall Soup on Sunday, Nov. 4.  More information is available here!
---
8/6/2018
Teachers, this back-to-school season DonorsChoose.org can help you get some
extra classroom resources to help you start off the school year. *From Sunday
8/5 – Friday 8/10 only*, when you submit your first DonorsChoose.org
classroom project, your project will receive an automatic $50 kickoff
donation from the DonorsChoose.org Team. Whether you need to refresh your
classroom library, try a new activity kit, or something else entirely — we
hope this can be an extra tool to help out.  Get started here
https://www.donorschoose.org/teachers?rf=email-campaign-2018-08-ww-admin
---
4/5/2018
Our new newsletter is now available! April 2018 Newsletter
---
3/29/2018
Good News to share from Dr. Hite!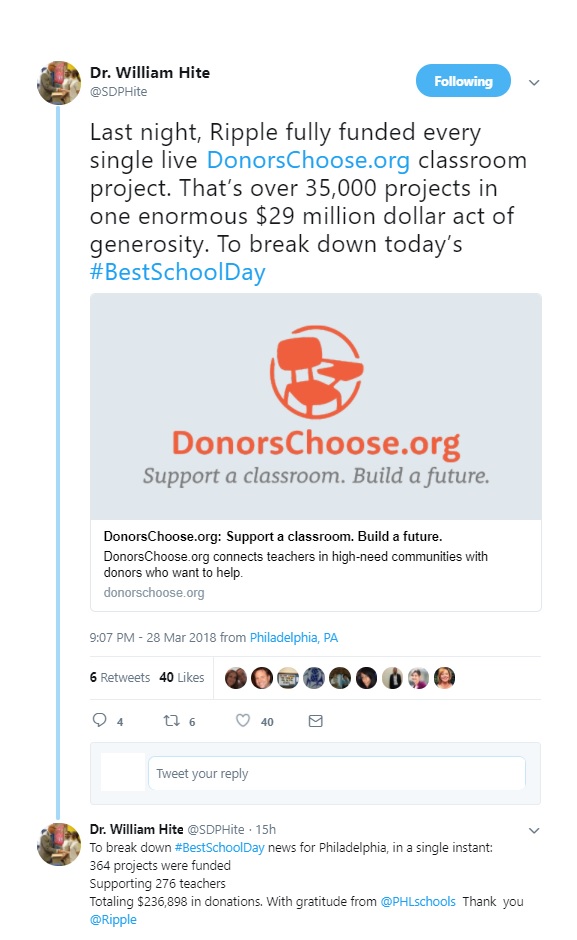 ---
3/12/2018
New Micro-grant opportunity: The Great Remake
They invite School districts and nonprofit organizations involved in Remake Learning to help spark wonder, compassion, and a sense of belonging among the region's learners. Specifically they seek to support equitable learning experiences through projects that work alongside — as well as uplift and support — the voices, strength, and potential of learners in poverty; learners of color; learners in rural areas; girls in STEM; and learners with exceptionalities. Grants range from $2,500- $7,500
PhilaSoup's Spring Grant Program is now open!
PhilaSoup's Spring Grant Application is now available. The deadline to apply for a $800 maximum grant is March 25, 2018 at 3PM.
They are also hosting a Grant Writing Workshop on March 22, 2018 from 4-6 PM at High Point Cafe in Fairmount.   Teachers can enjoy a cup of coffee and treat on them and learn more about the process of receiving funding through PhilaSoup, including application tips and advice, brainstorming and information about additional resources for funding for educational projects.  The event is free, but RSVP is requested.
---
12/12/2017
Applications are now open for PHENND's Philadelphia public schools  Community Partnerships VISTA project. Applications are due February 3rd.
---
10/27/2017
Supplies and Funds for Classroom projects and educational activities for students
+++++++++++++++++++++++++++++++++++++++++++++++++++++++++++++++++++++++++
The Delaware Valley Fairness Project is partnering with your school to support the education of your students. Through our Education Assistance Program, teachers and other staff members at the school may obtain supplies and funding for projects and activities both inside and outside the classroom.
TEACHER/STAFF-INITIATED PROJECTS
Have a project or activity you believe would have a positive impact on the education of your students?
don't want to go back to your friends and family to ask them to contribute to another of your projects?
prefer not to wait a month or two or three to get the funds and supplies you need?
The Delaware valley Fairness Project's education assistance program provides up to $500 for projects.  at times we provide more than $500 depending on the nature of the project and the availability of funds.  supplies or funds for approved projects usually are provided within two weeks of receipt of an online application.
for more information and to apply, visit dvfairness.org and click on the 'Programs' tab at the top of the home page.
---
10/12/2017
Grantwriting and Fundraising 101 Teacher Professional Development
Participants will learn about grantwriting and fundraising fundamentals. This includes prioritizing school needs, basic terminology, how to read a grant opportunity, proposal details and more.
This course is for SDP teachers only. Target audiences: Early Childhood Teachers, Elementary School Teachers, Middle School Teachers, High School Teachers,Counselors, and Para-professionals
Date/Time/Location: October 27, 1pm-3:30pm, Education Center, 3rd floor, Portal D, Room 3098
---
10/11/2017
Philadelphia Public School Giving Circle Now Accepting Micro-Grant Applications
The group will fund micro-grants from $250 up to $500 to support educational projects in Philadelphia public elementary schools
The Philadelphia Public School Giving Circle (PPSGC) micro-grant program is now accepting applications for educational projects benefiting the students of traditional Philadelphia neighborhood public elementary schools located in disadvantaged neighborhoods. These grants are designed to allow teachers, principals, parents, students, and community members working in schools, access to small grants to support Philadelphia students and address needs not met by the School District or other funders. Examples include: enrichment supplies, costs for trips, or other costs associated with class projects.
The deadline for applications is midnight, November 7, 2017. The application can be found online.
---
9/15/2017
Join PhilaSoup for a Grant Writing Support Happy Hour – Wednesday, September 27th, 6-8pm
PhilaSoup is a non-profit organization that provides micro-grants to fund educational or classroom projects in need of funding.
Join PhilaSoup on Wednesday, September 27th from 6-8pm at New Deck Tavern for a drink and snacks (our treat!) and for an opportunity to sit down with our team members to learn more about the process of funding school projects through PhilaSoup. Come hear tips on submitting a proposal for a PhilaSoup grant, ask questions, meet other educators and share ideas, and learn about additional resources for funding for educational projects. If you bring your laptop or tablet, you could leave having submitted a completed application. Getting funding through PhilaSoup is easy!
This event is FREE but please RSVP so we know you're coming!
---
9/10/2017
Check out Community Giving Day at Whole Foods in Philadelphia (both locations). Shop on 9/20 and 5% of all purchases will support the Farm to PreK program at The District. For more information please check out www.thefundsdp.org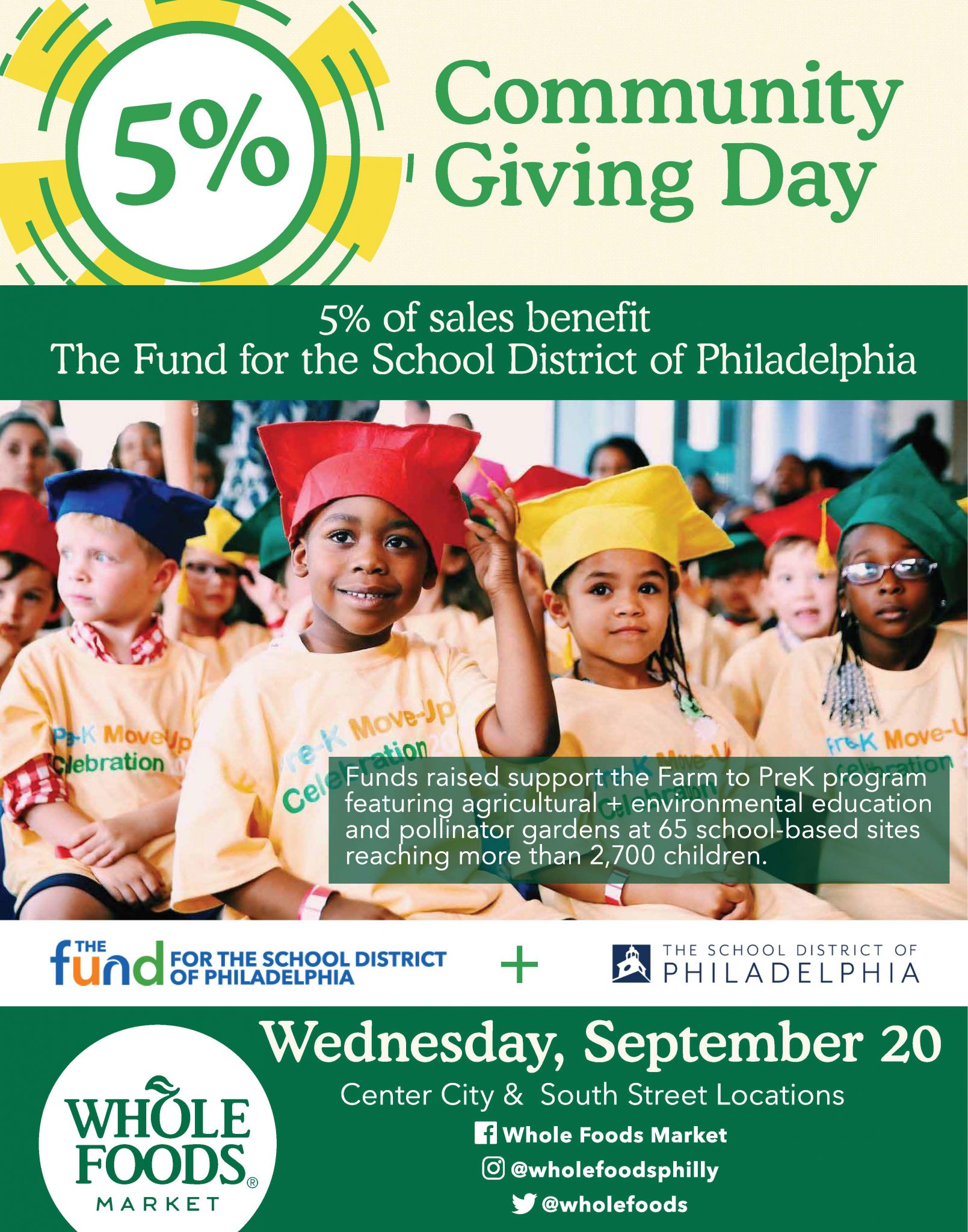 ---