NAC FAQ
1. What is the purpose of the Network Access Center?
As part of an ongoing effort to protect the District against cyber and data security breaches, the Office of Information Technology will be implementing security changes to the network in the Education Center building. These changes will affect any computer connected to the Internet using WiFi.
2. Does this impact me?
Currently, this impacts employees and contractors reporting to the 440 Education Center, ParkwayCC and PSLAMS AND have computers that are connected to the internet using WiFi AND wish to gain full access to the District network and resources.
No action is required at this time for employees and contractors who are currently working remotely. It will be necessary to take the action below upon returning to the office.
3. What do I need to do?
In order to gain full network access (Internet, shared network drives, printers, etc.), employees and contractors will need to:
Install security "certificates" on their district-owned and personally-owned computers (desktops/laptops); you may also see these referred to as "802.1x certificates"
Install a health assessment application on their computer
Steppers for Windows and Mac computers are posted on the IT Help Desk's Network Access Center (NAC) website. This process can take up to ten (10) minutes to complete.
All staff will need to renew their security certificate on June 30th of every year. A reminder email with step-by-step instructions will be sent prior to the renewal period.
4. Why does this not apply to staff and contractors that use SDP wifi to connect to the internet?
Staff and Contractor computers that connect to the SDP network and internet via the SDP wifi will be in the next phase of the project.
5. What if I do not want to register my computer (desktop/laptop)?
Staff and contractors who choose not to provision their computers (desktops/laptops) as described above will not have access to internal network resources, such as printers, shared network drives, etc. You would also need to login to the network login webpage each day (philasd.org/login)
6. What about computers or devices connected to a mini switch or hub?
As part of the transition, IT is providing a one-time courtesy replacement of existing mini switches with Aruba managed switches. See below for a picture of the supported device.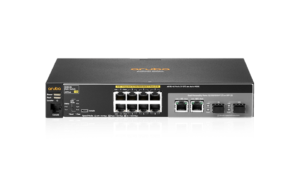 Replacement of damaged or lost devices will be the responsibility of the school or office. If you find an unsupported device that has not been replaced, please contact the Help Desk (215.400.5555; helpdesk@philad.org) for assistance.
7. My office or school has a device (computer, printer, etc.) with a static IP address. What do I need to do?
Computers, printers, etc. that have a static IP address assigned on the data network will no longer work. Staff should submit a ticket to the Technology Help Desk with the subject "Request a DHCP reservation" for assistance.
8. How do I connect a smartboard to the wireless network?
All smartboards should connect to "PhilaSD WiFi Guest". Smartboards will not need to log in on the guest network. If your smartboard displays the captive portal, please submit a ticket to the helpdesk with your WiFi MAC address.