Internet Access Options for Families
---
---
PHL ConnectED is phasing out
For the past few years, many of you have taken advantage of the City of Philadelphia's PHLConnectED program, and gained access to free, reliable internet service. This summer PHLConnectED is transitioning – the final day of sponsored internet service through PHLConnectED is July 31, 2023.
As PHLConnectED transitions, the District is working with the City to raise awareness about the Affordable Connectivity Program (ACP).  Learn more HERE.
---
---
For Chromebook questions and assistance, please call the Parent & Family Technology Support Hotline at 1 (215) 400-4444
The School District of Philadelphia understands how critical access to the Internet is for our students and families. The District is committed to finding ways to support the educational needs of our students while promoting social distancing habits for the safety of our students, families, teachers and staff, and the greater Philadelphia community.
The School District is working closely with the City of Philadelphia and Internet service providers to identify Internet access options available to our students and families. Below you'll find a list of free or low-cost Internet and WiFi access options that are currently available. Details of offerings for each Internet service provider as well as any restrictions or limitations can be found on their respective websites. The School District of Philadelphia does not endorse any service providers, solutions or offerings, and makes this information available to our families in order to raise awareness of various options for free or low-cost Internet access. We will continue to update this list as we become aware of new or upgraded options. Please check back regularly for updates. The City of Philadelphia's Office of Innovation and Technology has made available a similar listing of options at: https://www.phila.gov/2020-03-25-staying-connected-during-covid-19/
For an up-to-date interactive map of Philadelphia WiFi Hotspots, please click HERE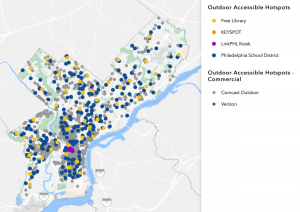 (Photo courtesy of City of Philadelphia Office of Innovation & Technology)  
Jump to:
Options from Commercial Providers
Comcast
Verizon
AT&T and Cricket
T-Mobile and Metro
Sprint and Boost Mobile
Other Options for Free/Low-Cost Internet Access