Virtual Club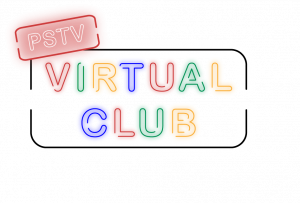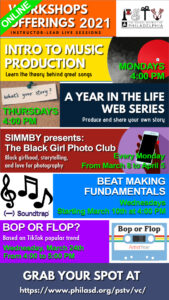 ** For all workshops you will receive login link day of the workshop if you have registered.
Artist Year presents Fill in the ______ Poetry?  Wed.  April 28th Grades 5-8. (4-5PM)
Poets can seem like a serious bunch, but simply by changing one word per line, we can turn poems into funny, nonsensical texts!  Use what you know and come join us in creating fun poetry!  We have enjoyed our Bop or Flop so this takes a different look at words.
This workshop will be taught by Mr. Ross Layton – Artist year teaching artist~!
A Year in the Life Web Series – Every Thursday 4:00-6PM Begins March Thursday March 11, 2021
The 2020-21 school year will undoubtedly be one to remember. We are looking for students to produce and participate in sharing the stories, songs, highlights and struggles of a year in the lives of the young people in Philadelphia. Through conversations, cell phone training and a study of virtual storytelling tools such as vlogs, shared artwork, poems, and performances.
We want to create a platform where your voices and the voices of your classmates can be elevated through a regular, student-produced web series. Interested in producing a year-long television program? Interested in telling your story? Join us in documenting the trials and successes of a Year in Life.
You can create video, art, podcast, drawings to tell your story. Register for the workshop above.
Intro to Music Production –  4:00-6:00 Every Monday
Learners will be able to deconstruct popular songs in order to train and develop their ears. As producers, a knowledge of basic music theory, instrumentation, the sonic space of a song, and production tools are essential skills in taking helping to guide artists from concept to product.
Each week, students will receive a song to study, along with comprehensive information about the artist and producers of the track. In the virtual classroom, we will deconstruct the song and analyze it for its essential parts: structure, lyrics, motifs, instrumentation, and sonic scape. Why do artists and producers make the choices they make? What sounds are used, and how can the be recreated? How do artists' sample tracks? What makes a great lyric? What kinds of conversations are had by artists and producers in the studio? Together, we will train our ears through critical analysis and conversation. Love music? Share your passions and questions in this class!
Beat Making Fundamentals – Finding your Sound  Begins Wednesday March 10th, 4-6PM
Youth will be immersed in the music creation process, covering topics including Digital Audio Workstation beat-making, sound engineering, recording, mixing, and basic vocal performance. Specifically, youth will learn how to utilize SoundTrap to produce and engineer their own original musical projects.
Additionally, the workshop will cover introductory music theory, discussing common Pop/Hip Hop/R&B/Electronic rhythm and melodic structures. Participate in a highly individualized workshop that is tailored to all experience levels and musical interests. The end goal of this virtual workshop is to emphasize fun, teamwork, learning and most of all using music as a tool of creative expression during this difficult time.