Oracle Supplier Portal
Starting July 2020, the District will launch a new Oracle ERP system. In order to continue to do business with the District, all suppliers, charter schools, government agencies, or other entities* must create a profile in the Oracle Supplier Portal. Here's a sneak peek of what it will look like: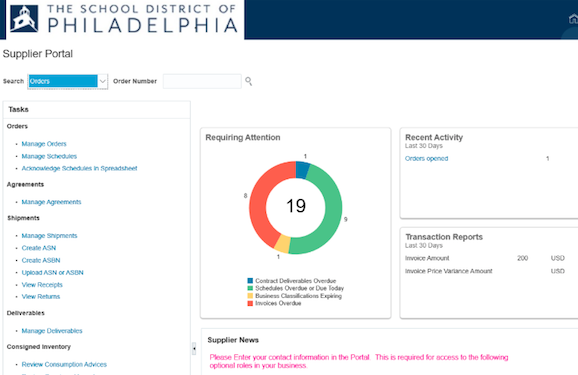 The Oracle ERP system is part of the District's larger initiative to modernize across its systems. For more information about that project, please click here.
The Oracle Supplier Portal is a self-service portal that allows entities to create and view their profile, update points of contacts and mailing addresses, view and respond to bids and RFPs, negotiate contracts, send and receive invoices and purchase orders, and check the status of payments.
To the right, you will see detailed instructions on registering in the portal, as well as an FAQ with some commonly asked questions. However, if you need additional information or want to know more about this new effort, please email oraclesupplier@philasd.org. We will respond shortly. If you prefer to speak with a representative by phone, just email your phone number and a good time to reach you, and we will give you a call back.
*NOTE: Registration of other entities such as parental reimbursement for transportation and OSS parents will be handled separately.