Afterschool Workshops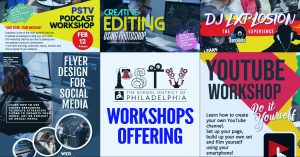 PSTV has created a multimedia space where students can learn about a multitude of media opportunities that are available to them. Here you will learn about film festivals, educational programs available from industry partners, workshops, internships and much more.
ALL PSTV WORKSHOPS ARE POSTPONED AT THIS TIME.  WE ARE IN THE PROCESS OF BUILDING YOU SOME ONLINE PROGRAMS STAY TUNED!
PSTV Program Offerings
DJ Explosion (The Top Choice Experience)  – Wednesday, Feb. 5th- March 25 from 4:00-6:00 pm (runs for 8 consecutive weeks)      **No Experience Necessary;  Register Here     Only 12 slots available       DJ Explosion workshop provides students grades 6-12 with the opportunity to learn the basics of DJing. During the session, students will learn theory with a heavy focus on hands-on practice. Accompanied by guest DJ's, student will walk away understanding core principles and mixing
TechGirlz – Feb. 13th – Python Programming workshop at PSTV from 4-6:30  ( MIDDLE SCHOOL GIRLS) Register here
Did you know that Disney, Netflix, Google and NASA, just to name a few, are all using Python? Python can be used for creating web applications, automation, programming robots and artificial intelligence. Python is the language of choice from beginners to experts.  Students will learn how to program using Python starting with simple data types, including numbers, letters and strings, and lists. Students will also explore comparisons, if-statements, and loops. Finally, students will use what they learned to create their own game.  Please create a free Trinket.io account prior to the workshop
Logic Pro Workshop – Mondays Feb 24- March 16  from 4:00-6:00 pm (runs for 4 consecutive weeks)  **No Experience Necessary; Register Here
Only 15 slots available  –  This basic workshop will familiarize you with the use of our Xpress studio along with and use of Logic Pro software. You will learn the Mixer, layout, Understanding Tempo and Key for Creating Loops, Software Instruments, MIDI, Recording Audio, VST Plugins, Mastering and Exporting Projects. This workshop is comprised of four sessions that must be attended in order to receive a PSTV certification.
Advanced Logic Pro Workshop-Mondays, March 23-April 13th from 4-6PM -(runs for 4 consecutive weeks)  **Logic Pro is a Prerequisite   Register Here   Only 15 slots available  Along with and use the continued use of Logic Pro software you will become acquainted with how to use our  Express Studio and the Recording Vocals, Deep Dive: Compression and EQ,  Auxiliary Tracks: Sends, Busses, Parallel Tracks, Mastering Final Tracks.  You must have already completed the Logic Pro workshop.
Songwriting and Production: Start to Finish – Tuesdays, Feb. 24 – May 5   from 4:00-6:00 pm (runs for 10-consecutive weeks)**  Logic Pro is a Prerequisite   Are you a writer? Musician? Producer? Looking for a team to collaborate with? The Songwriting course at PSTV will teach the process of songwriting and recording, bringing together a wealth of student talent in a collaborative, supportive environment. The course begins with an analysis of song structure and style across genres. Students will collaborate to write lyrics, write melodies and chord structures, and determine a style or genre for production. Students are also encouraged to bring existing melodies or lyrics to the class. During the second part of the course, students will record songs, either "inside the box" with software instruments or with live instrumental recordings in the studio. Finally, students will mix songs in Logic and work to promote songs through the Districts' streaming channel. .
'YOUR VOICE, YOUR MESSAGE' / MOBILE PODCAST – 1-day workshop Wednesday, 02/12/20 from 4:00-6:00 pm **No Experience Necessary;  Register Here 
Only 15 slots available A podcast is one of the most powerful vehicles to spread a message by using your own voice. This workshop teaches you how to develop your own podcast using your smartphone. It will cover planning and pre-production, topics, duration, and how to speak to your audience. Also, how to use hardware and software to record your pieces. Learn how to incorporate music and sound effects to enhance your storytelling.
YOUTUBE D.I.Y. – 1-day workshop, Wednesday, 03/18/20 from 4:00-6:00 pm **No Experience Necessary;  Only 15 slots available   YouTube is the go-to space if you want to showcase your videos and start a community of viewers. In this class, you will learn how to create and set up your own YouTube Channel. A step-by-step guide to make your channel, customize it and add videos. Use your smartphone as a camera, build up your stage crafting your own background and lighting setup using stuff around your house. Also, learn how to use YouTube incorporated assets like music and sound effects.
CREATIVE EDITING ON PHOTOSHOP – 1-day workshop, Wednesday, 04/22/20 from 4:00-6:00 pm **No Experience Necessary; Only 15 slots available;   Photoshop is a huge tool for creators. Either if you do photography or graphic design, learning the basics of photoshop will help you to free up your creativity. This workshop will teach you the basic tools to enhance your images, using filters, adding text and different objects. Change backgrounds, colors, create collages, etc.
DESIGNING FLYERS ONLINE FOR SOCIAL MEDIA – 1-day workshop-  Wednesday, 05/20/20 from 4:00-6:00 pm **No Experience Necessary; Only 15 slots available; Register Here      If you learn your ways, Social Media will give you the push up to gain audiences for your products, music and more. In this class, you will learn how to design flyers and posters to display on the internet using online tools. Promote your brand, your products, and ideas.
Rich Quick Cypher Workshop Series (Fridays between 3/6 and 4/3) – 4:00-6:00 pm                                                                                                                                                                              Philly rappers and music industry professionals will lead a series of workshops open to any current high school student (grades 9-12) focusing on cyphering and freestyling as well as sustainable creative careers such as podcasting. Students will also have opportunities to speak to the teaching artists about their experiences on local, national, and international stages, and will be featured on an established podcast. Advance registration is REQUIRED.
(STEAM)/STEM Workshops – More details to follow
Feb 8, March 7, April 18, May 9
Light & Motion, XR & MR,VJ & Sound
TechGirlz – Each Month PSTV offers Free TechGirlz workshops on the 2nd Thursday of the month, for Middle School Girls. Register for classes at TechGirlz   As much as we want all children to learn about technology, we do limit the age for our workshops to 6th-9th grade girls. TechGirlz Policies
Upcoming workshops
Photography
Studio Production
Art of Journalism
Editing
Field Production
_____________________________________________________________________________________________________________
Partner Offerings:
_______________________________________________________________________________________________________________________________ Klein College High School Media Workshop is a tuition-free 2-week summer program designed to prepare the next generation of digitally and urban-trained journalists through hands-on training, field reporting, and experiential trips within Philadelphia. Students entering grades 11 and 12 will have the opportunity to work with Klein faculty and industry professionals to learn the basics of reporting, writing, and broadcasting, along with digital and visual arts, all while living in Temple's campus residence halls from June 21 – July 2, 2020. Submit your application before May 22, 2020: https://klein.temple. edu/academics/high-school- summer-media-program
Thank you for sharing on your website! Looking forward to reconnecting in May, and hope you have a great few weeks of traveling soon!
________________________________________________________________________________________________________________________________
 The 2020 SE Pennsylvania Teen Filmmakers Showcase is a chance for teenagers interested in the film industry to see their original films on the big screen, walk a red carpet, meet university film school faculty and arrive at the event in style, in a limo! Students will join fellow teens in a 150 seat arena to watch some great cinema. Penn State and Kutztown University film department faculty will be hosting a Q & A as well! If you are thinking of applying to film school – come rub elbows with the decision makers! Submissions from high school film clubs will also be considered.
For 2020, the submission period will be open from February 1st-June 15th and is open to all 12-19 YO in Chester, Delaware, Montgomery and Philadelphia counties. The Showcase will take place on August 17, 2020.
All genres are accepted and films can be from individual students and also groups or film club submissions all online. For more information on submission details please contact Jason Lang at jlang@eastgoshen.org.
More information and photos can be found here: https://filmfreeway.com/ SEPennsylvaniaTeenFilmmakersshowcase 
The Showcase includes:
5:00pm – Filmmakers Social Mixer, on air interviews with WCHE1520 Radio and a Question & Answer Session with University Film School faculty and industry professionals
6pm to 7:30pm – Screening of selected films
7:30pm to 7:45pm – Voting for Fan Favorite Award via Social Media App
8:00pm – Awards Announcements and conclusion of Showcase
Email Jason Lang at jlang@eastgoshen.org for full submission details.
Interview on Comcast Newsmakers: https://comcastnewsmakers.com/ Videos/2019/11/11/CC191108-1? autoPlay
Social Media: @sepateenfilmshowcase
—————————————————————————————————————————————————————————————————————————-
'
The Urban Technology Project is now recruiting for our 2018-19 Pre-Apprentice Digital Service Fellows cohort. Students ages 18-24 that are interested in a career in technology. The AmeriCorps Digital Service Fellows Pre-Apprenticeship program offers young adults the opportunity to learn technology support while serving Philadelphia schools by providing STEM and Computer Science mentoring activities to students. Applications are accepted on a rolling basis. Pre-Apprentice Digital Service Fellows provide technology services to schools across the district while learning new tech skills, professionalism skills, earning a living stipend, gaining I.T. industry certifications, and more! Learn More