2019 Research, Policy and Practice (R2P) Conference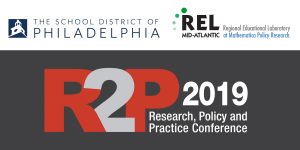 At the School District of Philadelphia, we are serious about having research inform our practice – and our practice inform research. In May 2019, we were proud to co-sponsor, with Regional Educational Laboratory Mid-Atlantic, our 5th Annual R2P Conference.
Check back soon for videos and highlights from the conference.
For More Information
2019 ORE Posters and Additional Information Page
2019 R2P Call for Proposals (PDF)
Questions?
Contact ORE at research@philasd.org, or contact REL Mid-Atlantic at RELmidatlantic@mathematica-mpr.com.