Overview: Paint & Plaster Stabilization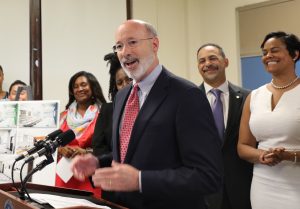 On June 29, 2018, Governor Tom Wolf, Pennsylvania Senator Vincent Hughes and members of the Philadelphia state delegation announced a $7.6 million grant to address lead paint in our school facilities. This grant will allow us to advance on our goal of creating healthy, safe and welcoming environments at forty (40) schools.
Paint stabilization involves removing loose, peeling, flaking and crumbling paint and plaster under controlled conditions. Schools are selected for this work because paint damage was documented in occupied spaces such as classrooms and classroom closets, administrative offices, cafeteria, auditorium, bathrooms, kitchen, hallways, and emergency exit stairways. The goal of the work is to enhance classroom environments and remove the risk of lead exposure to children in our school community.